Microgrid with Parallel Inverters
Alternative energy sources such as photovoltaic, fuel cells, and wind power are getting a lot of media attention. One promising way to incorporate these energy resources is through a Microgrid which provides a connection of the energy sources to make them highly reliable and available to the critical energy demands. The microgrid presents many design challenges which demands intelligent control algorithms and advanced hardware design.
Key Features and Design Goals
Precision active and reactive power control that utilizes the admittance loop compensation to cancel the grid voltage feeding back to the inverter and the proportional-resonant current control to eliminate the steady-state error at the line frequency.
Optimal design of a universal inductor-capacitor-inductor (LCL) type filter at the inverter output that allows smooth transfer between grid-tie and standalone modes.
Fast control area network (CAN) bus communication for current command to ensure precision and fast power flow control and to determine operation under voltage or current mode.
Intelligent islanding operation that applies frequency compensated phase-locked loop (PLL) along with droop control method under loss of communication condition.
High efficiency soft-switching inverter that has a switching power-stage efficiency greater than 99% and thus allowing the inverter operated reliably under all weather condition with a long life span.
Key Technologies
Paralleling power conditioning systems (PCS's) with synchronization and communication between PCS's
Islanding detection and mode transfer for smart grid operation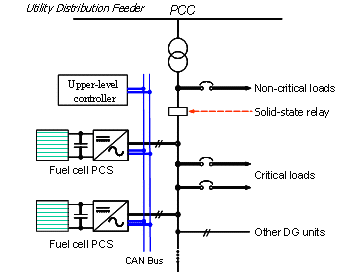 Microgrid Architecture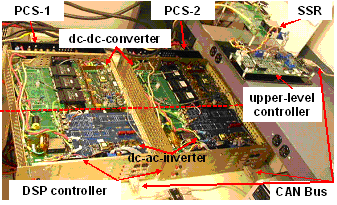 Microgrid system consisting of two paralleled PCS, an upper-level controller, a SSR, and CAN-bus connection
---
Contact

Address: 220 Inventive Ln, Blacksburg, VA 24061
Tel: (540) 231-5581 Fax: (540) 231-3362


Copyright 2022, Virginia Tech FEEC